Are Replacement Windows Worth the Cost?
New replacement windows in your home can more than pay for themselves through a combination of energy savings and increased property value. By installing high quality, low-e glass with the latest UV protectant you cut down on costs while giving yourself an upgrade that will give people driving by something new to talk about! And, by raising your curb appeal you'll also increase your property value and selling or rental price of your home.
Replacement Windows and Energy Efficiency
Various replacement windows contain glazing over two or three window panes. Solar heat gain factor or SHGC describes the rate at which solar energy passes through window glass. A higher proportion indicates the windows are capable of absorbing a higher proportion of sun heat. For the South – Window insulation can have a higher SHGC rating to help cool air during the summer. Windows are labeled with a green flag in certain regions on their labels.
Energy Efficiency and Glass Types
In most replacement windows, the most important decision regarding energy efficiency is the selection of the glazing. Based on various replacement window design factors such as window orientation, climate, building design, etc., you may even want to choose different types of glazing for different replacement windows throughout your home.
For more detailed information about glazing options contact Window and Door Specialties to learn about the specific properties and efficiency of different glazing options.
While single glazing is common in older buildings, virtually all new efficient buildings use double or triple glazing units. The "insulating glazing units", or IGUS, are available in a wide range of properties based on the type of glass selected, the coatings on the glass, the gas used to fill the space between the panes, and the spacers that keep the glazing separated. Below are some of the most common coatings and technologies you may find when shopping for replacement windows:
Insulated
Insulated window glazing refers to replacement windows with two or more panes of glass. This construction method insulates the window, lowering both U-factor and SHGC by creating an airtight seal between panes that reduces heat loss in winter while also keeping the hot air out during summer months!
Low-Emissivity Coatings
Low-emissivity (low-e) coatings on glass control heat transfer within the insulated glazing. Windows manufactured with low-e coatings typically cost about 10% to 15% more than regular windows, but they reduce energy loss by as much as 30% to 50%.
A low-e coating is a microscopically thin, virtually invisible, metal or metallic oxide layer deposited directly on the surface of one or more of the panes of glass. The low-e coating lowers the U-factor of the window, and can manage the daylight transmittance as well as the solar heat gain through the glazing system. Different types of low-e coatings have been designed to allow for high solar gain, moderate solar gain, or low solar gain, and and they can also be tuned to control the amount of visible daylight transmitted.  
Spectrally Selective Coatings
In those climate where cooling loads dominate, you will want a glazing that provides daylight and view but transmits as little of the sun's non-visible infrared radiation as possible, Some low-E coatings are designed to be spectrally selective, filtering out 40% to 70% of the heat normally transmitted through insulated window glass or glazing while allowing the full amount of daylight.
Gas Fills and Spacers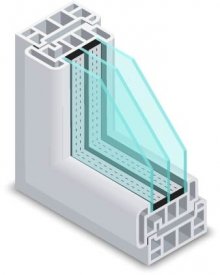 In order to minimize heat transfer between the interior and exterior of the replacement window, the space between glazing layers, usually about 1/2″, is filled with argon or krypton gas; both are inert, non-toxic, clear, and odorless.
Argon is most commonly used because it is inexpensive and performs well in the typical 1/2″ space. Krypton can be used when the space in thinner than usual – usually about ¼ inch. It has better thermal performance than argon but is also more costly.
Spacers with associated sealants are used to keep the layers of glazing the correct distance apart. In addition, they provide accommodation for thermal expansion and pressure differences, while also preventing moisture and gas leaks.
A variety of spacers are available with different impacts on the window U-factor. Look for "warm edge" spacers which are designed to lower the window U-factor and reduce condensation at the edge of the window. Contact us at Window and Door Specialties for more information on the different spacer types.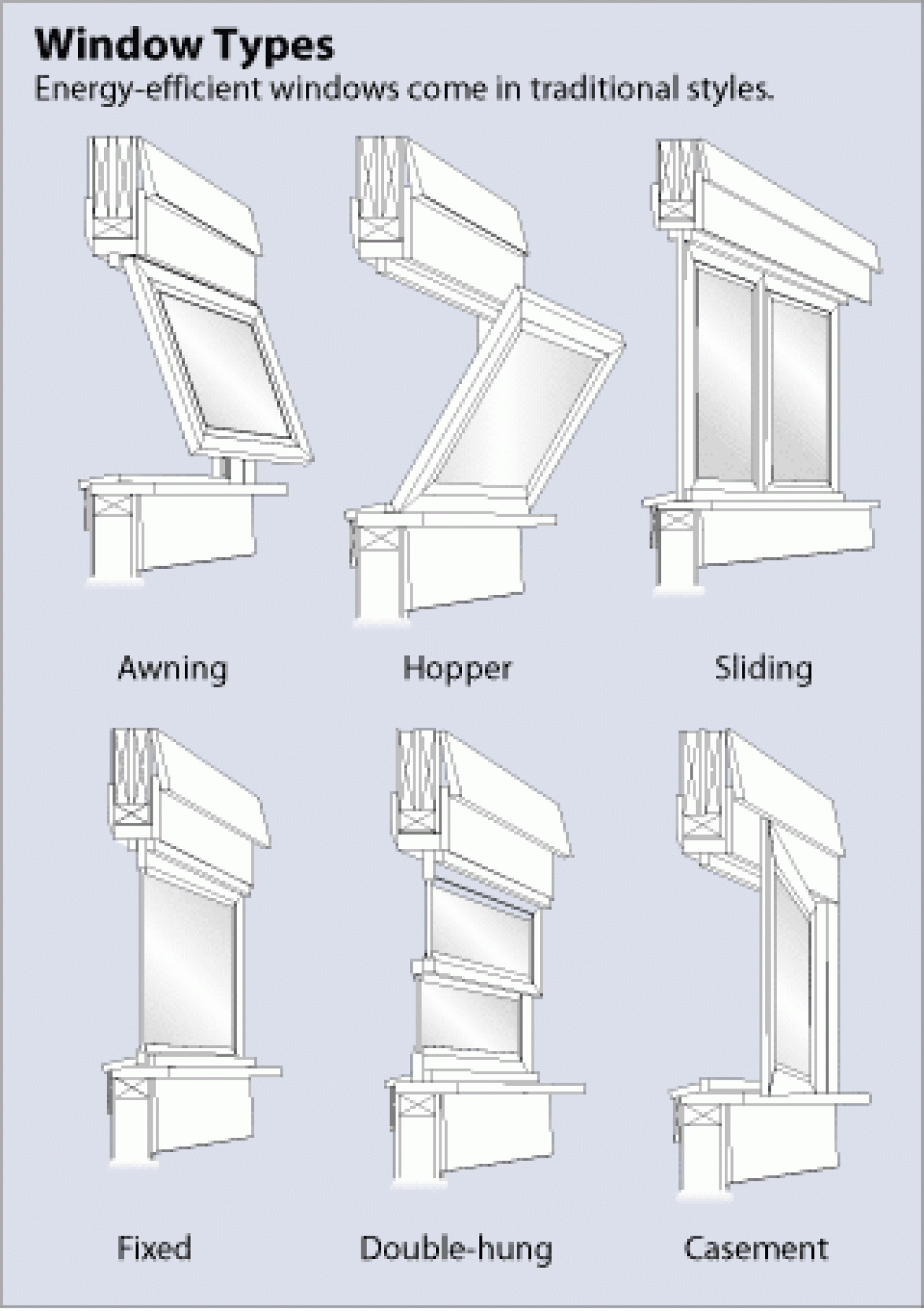 Replacement Window Operating Types
Another important consideration is how the windows operate. Since all operable windows may have undesired air leakage which will decrease your home's energy efficiency, the choice of operator type can impact overall energy use. Air leakage rates will vary with the type and quality of the weatherstripping and seals, and will generally increase over time due to operational use. Traditional operating types include:
Awning. Hinged at the top and open outward. Because the sash closes by pressing against the frame, they generally have lower air leakage rates than sliding windows.
Hopper. Hinged at the bottom and open inward. Like both awning and casement, they generally have lower air leakage rates because the sash closes by pressing against the frame.
Single hung – Unlike a double hung window, only one sash slides in a single-sliding window. Like double-hung windows, they generally have higher air leakage rates than projecting or hinged windows.
Fixed. Fixed panes that don't open. When installed properly they're airtight but are not suitable in places where window ventilation and egress is desired.
Double-hung. Both sashes slide vertically in a double-hung window. Only the bottom sash slides upward in a single-hung window. These sliding windows generally have higher air leakage rates than projecting or hinged windows.
Casement. Hinged at the sides. Like awning windows, they generally have lower air leakage rates than sliding windows because the sash closes by pressing against the frame.
Bow and Bay – Even when they have no fixed panels, bay and bow windows can deliver excellent energy efficiency when they include casement windows in their design. A bay window offers slightly better energy efficiency since the bow is usually larger and has more openings.
Picture – Because picture windows are stationary and sealed directly within the frame, they are energy efficient by design. Add a higher grade of Low-E glass to boost the efficiency and comfort levels in summer and winter.
Sliding Windows – Sliding windows are more efficient than some other types of windows for multiple reasons. For starters, lack of complicated moving parts allows the window to close tightly and firmly, effectively blocking air infiltration from outside.
Energy Star Compliance
ENERGY STAR qualified windows:
Are manufactured by an Energy Star partner.
Are independently tested, certified and verified by the National Fenestration Rating Council (NFRC).
Have NFRC ratings that meet strict energy efficiency guidelines set by the US Environmental Protection Agency (EPA).
Performance Criteria
Replacement windows protect you from the elements just like a winter coat. But like a winter coat, you should pick the windows that make the most sense for your climate. While some windows are better at keeping you warm, others excel at keeping you cool. Window and Door Specialties operates in both Carolina's where we typically get a hot summer and a cold winter.
How Much Will Replacement Windows Improve My Property Value?
Renovations are often expensive, but they don't all add the same amount of value to your home. For that reason, many homeowners tend to focus on the most valuable improvements such as exterior upgrades, kitchen remodels, and bathroom remodels. But what about new windows? Adding new windows to your home can make a major impact in terms of both aesthetics and energy efficiency, and can also make your home more appealing to buyers if you're looking to sell. But how does the added value of new windows compare to the value add you get from other big renovations, and is it worth it? Let's dig in to the details.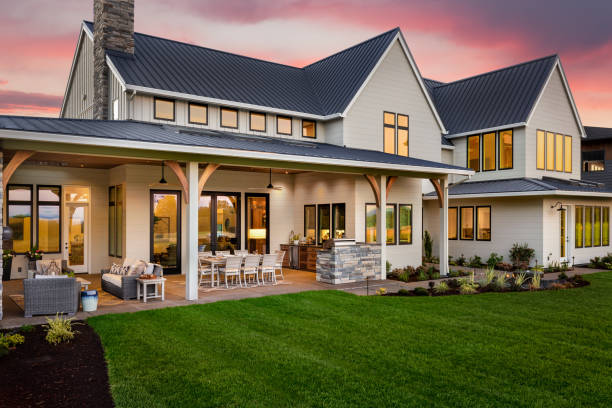 Repairing Windows vs. Replacement Windows
Most homeowners don't replace their home's windows unless they really have to. The cost of new windows adds up fast when you factor in all the rooms in your house, and taking a piecemeal approach means dealing with an incongruous look until you finish the job. So when deciding whether you should spring for new windows, it helps to first determine whether new windows are even really needed, or whether a less costly repair would be sufficient.
The primary reasons that people decide to get new windows for their home include:
Updating the appearance of the home, especially older homes
Wanting to improve energy efficiency and reduce heating and cooling costs
In response to damage after a storm or accident, or in response to normal wear and tear
If you're considering replacing your windows for aesthetic reasons, then a repair won't get you the results you're looking for. To figure out whether you need new windows or if a repair will suffice, bring in a professional from Window and Door Specialties to assess the situation and determine what your best—and most cost efficient—course of action is.
How Much Do Replacement Windows Cost?
The cost for new windows varies widely depending on the type of windows that you purchase, the size of the windows, and how many you need. Other cost factors include energy efficient upgrades, as well as if you need any custom features. In addition to these costs, you will also need to factor in the cost of professional installation.
According to HomeAdvisor, the average cost average cost for a window replacement is around $650 per window,  with a standard range of about $500 to $1,000. In terms of labor, you can expect to spend an additional $100 to $300 per window. All told, for a standard three bedroom home that's about $3,000 to $10,000 to replace all of the windows, and $4,000 to $13,000 if you add in installation fees. The same renovation on a larger home will likely run closer to $20,000 and above.
When budgeting out your renovation project, keep in mind that to get the most added value of new windows you want to upgrade with the same materials or better as the windows that you're replacing. Choosing a less valuable material could have the opposite effect, which means you'll actually lose value while still spending a lot of money.
Added Value of Replacement Windows
Here's some good news: new windows have a high return rate, and you can boost that return even higher by choosing windows with better energy efficiency. To get the full added value of new windows, however, you'll have to do an upscale upgrade, since minor upgrades don't have as high of a return.
According to the most recent Cost vs. Value Report from Remodeling magazine, an upscale vinyl window replacement has a return of 73.4% ($16,802 spent on the job brings in a return of $12,332) and an upscale wood window replacement has a return of 70.8% ($20,526 spent on the job brings in a return of $14,530).
The return on new windows is actually quite a bit higher than the returns for other high-cost home renovations such as midrange kitchen remodels (62.1% return), upscale kitchen remodels (59.7% return), and composite deck additions (69.1% return).
How to Choose Your Replacement Windows
There is a lot to think about when choosing the windows that will add the most value to your home.
Style. Just as important as choosing a style that you love is choosing a style that compliments the style of your home. Look for styles that offer a modern take on what you previously had while still looking like they fit in with the exterior.
Materials. As previously stated, to get the most added value out of new windows you're going to want to choose a material for the frame that is at least as nice as what you previously had.
Efficiency. Energy efficiency is usually the way to go with new windows. Do compare different manufacturer options however to ensure that you pick energy efficient features that are most in line with your budget and climate.
Single pane vs. double pane. Single pane windows, which feature just a single pane of glass in between the interior and exterior of your home, are cheaper to purchase and install than double pane windows. Most windows today though are double pane, which feature two panes separated by air (or gas) that traps air from outside and blocks either heat or cold from entering your home. If you're considering single pane windows to save money, be sure to learn as much as you can about their performance. What you save in initial costs you may end up spending later on in energy bills.
Signs It's Time For New Replacement Windows
The time to replace your windows is when they make you feel uncomfortable in any way, when something about the outside of your home doesn't look right, or when you notice your energy bills rising!
Faulty Window Operation
Window jamming and sticking are signs that your windows may be out of balance. This can lead to rust, mold or other damage over time which could cost you more in the long run!
Cold Drafts
Windows are supposed to keep out the cold and heat, but if you feel a draft when standing close to your window then there is probably some damage. This leads not only higher energy bills for heating or cooling homes (which can cost hundreds per year), it also adds unnecessary stress on your family!
Condensation Between Glass Panes
Condensation can mean that your current windows' glazing is losing its effectiveness. Due to failing seals, moisture finds its way between the glass panes, forming condensation. Broken seals make your windows foggy and unattractive, and allow air seepage.
Loud Noises
One of the most common problems in homes is noise. Windows can make any room more pleasing by cutting down on unwanted sounds like barking dogs, car horns or other traffic noises which are usually muffled when you're inside but still there – just not as much so than if it were coming from outside your house . If this seems too loud for you and those around during day-to-day life then consider investing money into replacing these old inefficient barriers with energy efficient ones!
The Verdict: Are Replacement Windows Worth It?
Yes! Replacing your old windows with new, energy efficient models is one of the best investments you can make in todays's economy. In fact it will pay off many times over before long!
Contact us today at Window and Door Specialties with locations in Asheville, Hendersonville, Myrtle Beach, Charlotte and Fayetteville. Visit our website now for the location nearest you.